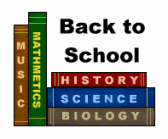 Mrs. Murphy
Sikeston High School
Welcome Back to School!!!
My name is Misty Murphy and I teach special education grades 9-12 at Sikeston High School .
On my website you will find a daily schedule with our classroom routine and classroom rules and expectations. In case the school has a closure there are 5 assignments listed on the AMI (Alternative Method of Instruction) tab for students to complete. The links to the assignments are also listed on the student's google classroom. If you have problems finding the assignments please email me at mmurphy@spsr6.org.